Corporate Gifts, Business Gifts, Promotional Gifts - Hyderabad
Monday, 28 January 2013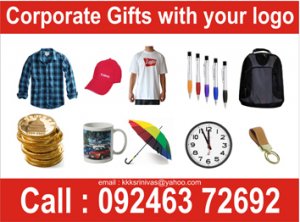 Item details
City:
Hyderabad, Andhra Pradesh
Contacts

srinivas

9246372692
Item description
Corporate gifts with your logo means when your representative approaches your
customer with this gifts then the interaction between your company representative and the
customer will be more. These will increase the sales lead then the growth of the company
will automatically increases. Now-a-days these Corporate Gifts are playing a dominant role
in the field of marketing field not only for the increase of profits but also for the promotion
of the company with low advertising ads. The Gifts which we are offering are useful in everyone's
daily routine. These type of Corporate Gifts with your logo is useful for every company to extend
their business. If a newly started company has to promote then the company has to invest large
amount to get promoted to reach every people but these Corporate Gifts with your logo reduces the
amount for the promotion of the company and for increase in the sales. We are also providing other
products and services rather than this like Corporate signs, auto ads, mobile media, T-shirts and our official site hitechpublicity com.