Selenium Testing Training Institute in Hyderabad | learning slot - Hyderabad
Wednesday, 8 November 2017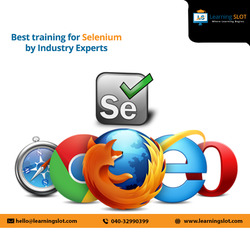 Item details
City:
Hyderabad, Andhra Pradesh
Contacts

sirisha siri

80 74 419 659
Item description
The current technical world is mostly dependent on machines for everything. And these machines are mostly running on software empowering them. The behavior of these machines depends on the internal code. After all, towards the end, it is the software application success rate that assures the working of any product.
How do we ensure this success rate to be high? It is highly important to test any application before deploying it to ensure proper working.
Now the era of automation testing has begun, because it is faster, needs less investment in human resource, not error-prone, offers the possibility of frequent execution, supports regression and functional testing.
Selenium, an open source automated web browser testing tool, which has no licensing cost involved is trending these days.
For those who are looking for a career in automation testing, Selenium is the best option.
Learning slot is offering Selenium training in Hyderabad. It has expert trainers with more than 7 years of experience in testing. Learning slot provides real-time training experience, along with high-quality study material and tutorials to rehearse on online training.
They offer fast track, weekend, and regular classes for the convenience of the learners. As the course is job oriented and industry ready, the Leaning slot has become one of the top Selenium training institutes in Hyderabad. For more details visit their website httpwww.learningslot.com/selenium-testing-online-training.html.