Online Course for Ms Office by ITeLearn - Hyderabad
Friday, 7 August 2015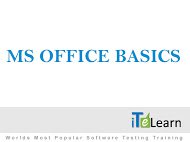 Item details
City:
Hyderabad, Andhra Pradesh
Contacts

simonseth

+1-314-827-5272
Item description
Microsoft Office most commonly known as MS Office, developed by Microsoft originally for business, is now used by common users around the globe. The Office Suite is basically a collection of applications, servers and services. Announced by Bill Gates of Microsoft on the 1st August of 1988 at COMDEX in Las Vegas, it is one of the most widely used Office Application today. In this Online Training, we will cover various MS Office Basics, in getting yourself started with Word, Creating and Editing a Document, Worksheet Basics, Creating Powerful Slides in PowerPoint and Animating Texts and Graphics.
ITeLearn is a leading online training platform that helps thousands of professionals world-wide in mastering Manual Testing, HP QTP/UFT, Selenium, Java, ISTQB, Mobile App Testing, Python, Security Testing and many more IT and Software Testing Skills that helps in achieving their career goals and growth.