Wel-tech cloth drying ceiling hanger - Hyderabad
Saturday, 27 June 2015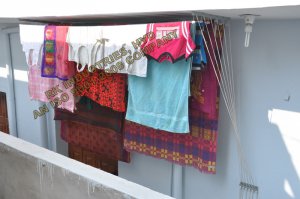 Item details
City:
Hyderabad, Andhra Pradesh
Contacts

Rayanna

9849859477
Item description
Wel-Tech Cloth Drying Ceiling Hanger/Rack (Patented) for every house hold at affordable price
The advantages of the product is listed below:
- Minimum place will be taken up in your bathroom, balcony, veranda etc. ( i.e. maximum place is saved.
- The clothes will dry faster since the apparatus is fixed to the ceiling, due to high temperature near the ceiling.
- It is ideal for elderyly people and the physically less fit because it helps dry out the clothes with minimum effort.
- It can be fixed in a number of ways depending on the user's need. It contains 6 sticks, which can be managed individually.