Top Study Abroad Consultants in Madhapur, Hyderabad | Edmappers - Hyderabad
Monday, 18 February 2019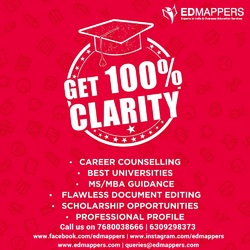 Item details
City:
Hyderabad, Andhra Pradesh
Contacts

Edmappers

6309298373
Item description
Edmappers, a home to dedicated counselors and student advisors, a forerunner in abroad education with global tie-ups and prominent national presence, offers a best-in-class solution for all the International Education needs.
Being successful is all about mapping education with career goals. And Edmappers is that navigator and it all started with a sole aim – to pave a right educational path that will align with the student's aspiration. And with a record of supporting over 5000 students in career counseling, profile assessment and admission guidance Edmappers is now the most meaningful partner for career growth.