Hair Loss Clinics in Hyderabad, Hair Fall Clinic in Hyderabad, Lowest Price Hai - Hyderabad
Tuesday, 20 March 2018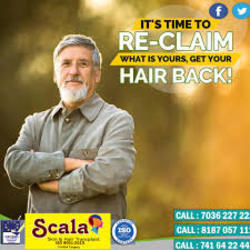 Item details
City:
Hyderabad, Andhra Pradesh
Contacts

scala

+917416422444
Item description
Hair loss is a painful problem for both men and women. The words "hair loss" and "hair thinning" are used by most
people, including dermatologists, but there is a world of difference between the two. Scala's rigorously trained
dermato-trichologists use their clinical expertise and derma scopes to understand your hair anxiety and to find a
holistic and long-term solution for it.
Dermatologists are those who have completed 5.5 years of MBBS and 2 or 3 years of post graduation in dermatology
which is the study of skin, hair and nail diseases. Scala only recruits qualified dermatologists and train them for
two months and their Allows hair to be made and skin consultations and treatments only after they are certified.
Excessive hair loss is caused by nutritional deficiencies and hormonal imbalance like thyroid problems. It can be
triggered by intense physical or emotional stress.