Best Digital Marketing Training Institute in Hyderabad | Learning Slot - Hyderabad
Wednesday, 8 November 2017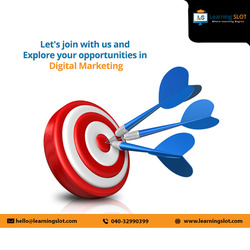 Item details
City:
Hyderabad, Andhra Pradesh
Contacts

80 74 419 659
Item description
To make yourself more marketable, and put your career in rushing growth mode, opting for the course which is high in demand is essential. When we say the word marketable, we can make out that everything around us need marketing to sustain in the world. To promote any brand Digital marketing has become the most sought-after way of marketing in this tech-savvy era. In order to boost up the speed of your career growth, it is highly recommended to get trained in the most trending way of marketing these days, i.e. Digital Marketing.
Learning slow, a platform which offers web services is now providing Digital Marketing Training in Hyderabad. It is promising state of the art training from the expert faculty who are highly experienced and skillful.
The course curriculum is been planned to meet the current industry standards and is prone to alterations depending on the latest progressions in the subject. The highlight of this institute is that they train the students based on the real-time case studies.
They are even providing self-assessments after every module to check the level of understanding and guide the students according to their requirements.
The course covers all the important modules of Digital marketing, such as SEO, SEM, E-mail marketing, Affiliate marketing, content marketing, web Analytics and ORM, i.e. Online Reputation Management.
They guide the students in getting the Google AdWords Certification with ease and assist them in placements as well.
Visit website www.learningslot.com for further details. They are here to bridge the gap between the job seekers and the job providers. Happy Learning!!