Best Bridal Make Up in Hyderabad - Anoos Clinic - Hyderabad
Saturday, 10 December 2016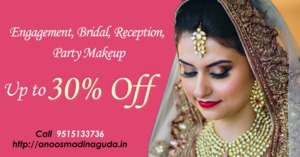 Item details
City:
Hyderabad, Andhra Pradesh
Contacts

anoosmadinaguda

09515133736
Item description
Bridal Make-up at Anoos – Create an impression that lasts a lifetime. Leave no stone unturned for the big day. Make your life's most important moment more beautiful and Delighted. Whether it's your wedding day or a formal event, let our team of experienced makeup artists at make you feel special! All our makeup artists work to customize looks that reflect your personality and style.
For More Info Visit : httpanoosmadinaguda.in/best-bridal-make-up-in-hyderabad
Email : info@anoosmadinaguda.com
Coontact : +(91)-40-42034777, 42034888 , +(91)-9515133736
Address : 3rd Floor, Balaji Empire, Madinaguda, Hyderabad - 500050, Opposite My Home Jewels.